Greeting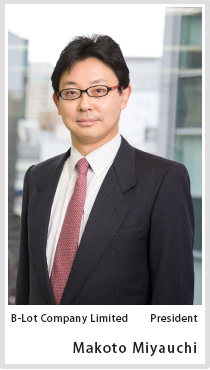 I have been observing the real estate market in Japan for close to 20 years beginning from around the time when the first signs of recovery were yet to appear after the collapse of the asset bubble. From my position on the frontline, initially at a financial institution and then later at a real estate company, I unexpectedly witnessed the epitome of the Japanese economy.
Over that period, both the financial sector and the real estate sector changed dramatically. An especially noticeable aspect of this change was how the two industries, which form the foundation of the economy, have become more closely knit with each other. Through the sophistication of investment methods like real estate securitization and real estate funds, which were introduced to help the economy break out of its long-standing malaise, the real estate market quickly became overheated in the space of only five years. Within this short time, newly emerging real estate companies even began to threaten the status of real estate companies of conglomerates.
Soon after, however, the real estate market experienced a reversal and deteriorated rapidly. The plunge began with regulatory tightening aimed at preventing a recurrence of the asset bubble collapse. This was followed by deterioration in the funding environment, and then, as the finishing blow, the Global Financial Crisis happened. Against a backdrop of drastic falls in real estate prices, a sharp decline in large-scale sales transactions utilizing real estate funds, and a continued decline in J-REIT investment unit prices, there was a series of large bankruptcies which amounted to more than ¥100 billion in total liabilities.
In 2011, just when signs of a gradual recovery from the Global Financial Crisis began to emerge, the real estate market took a direct hit from the Great East Japan Earthquake. It is still fresh in my memory how the confidence of Japanese and foreign investors all of a sudden plummeted as a result of the large shock they received concerning earthquake risk. And now, the real estate market is staging a big recovery. Funds from across the world are flowing into Japanese real estate, mainly as a result of global excess liquidity, signs of economic recovery through Abenomics, and the immense difference between real estate yield and interest rate (yield gap).
I find the dramatic changes that have occurred over a little under 20 years are the fate of the real estate market that will be unavoidable in the future as well.
Even amid these dramatic changes, it is a fact that many real estate companies have achieved growth. Those companies placed importance on a sound financial standing that is not affected by macro economy, copper-bottomed long-term stable growth plans or diversified business models. Also, such companies have upheld the high ideal of transforming the real estate industry into a trustworthy industry by creating relationships with customers where sincerity is treated as important, enhancing compliance or improving transparency. Moreover, they have made efforts to advance technologically such as by developing real estate products that have been refined to earn high support and trust from investors.
These reasons of growth seem very beautiful when one lists them together. However, when I think about it, I feel it what one expects to come from ordinary, well-intentioned people. Nobody wants construction of irresponsible business models based on the assumption that real estate prices will rise, pursuit of selfish objectives that only puts one's own company's profit first, or deviation from societal rules for the purpose of achieving unreasonable growth.
The objective at B-Lot is to develop the real estate industry, which is one of the important fundamentals of society, into a trusted industry of much pride. While passionately embracing the ideas that one expects to come from ordinary, well-intentioned people, we pursue profit and aim for sustainable, long-term growth as a company needed by society. To achieve this objective, we will work to improve ourselves so as to always demonstrate our insight, judgment and creativity as professionals in a market that we expect to change dramatically in the future. By following this process, opportunities for business are expanding limitlessly. As a result, I am confident we are contributing a small but positive effect on the development of the Japanese and the global economy.
More than anything else, the management and staff of B-Lot are genuinely enjoying work that gives us much pride.
Makoto Miyauchi, President
B-Lot Company Limited
September 2, 2013